Special day for Holby City star
HOLBY City star George Irving said a big thank you to real-life NHS heroes during a visit to a north east hospital.
The South Shields-born actor, who plays fearsome cardiac surgeon Anton Meyer in the BBC hospital drama, proved a big hit with patients and staff when he opened Sunderland Royal Hospital's new haematology department.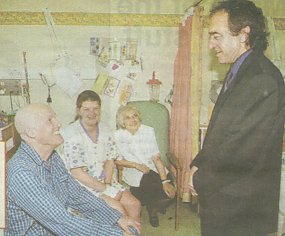 George agreed to perform the plaque unveiling ceremony as a thank you to the ward's caring staff, who treated his late mother Nell.
The 51-year-old star was given a tour of the new department and chatted to nursing staff and patients.
He said: "This place is very special to me. I know how valuable the work that they do is. I've nothing but praise for them. It's just such a positive place.
"When they asked me to come and do this, I had no hesitation. I don't do this kind of thing very often. Yes, they wanted me to do it because I'm on the box, but I accepted because I'm my mother's son.
"The whole time my mother spent at the hospital was a very life-enhancing experience. That's the reason I am here.
"Holby City is a television programme. What goes on here is only too real."
Sadly, his mother died two years ago aged 73, but George and his father, also George, and his family have kept in touch with staff at the hospital.
The actor praised the new facilities in the haematology department. He said: "What I have seen here is something Anton Meyer would approve of. It is excellence being rewarded with results.
"It doesn't look like a hospital. It's nicely decorated, comfortable and friendly . That makes a huge difference to the effectiveness of people's treatment ."
George lived in South Shields until he was 20 and visits his family at least a few times a year.