images >
soundtrack >
poster >
media >
links >
index >
domain >

silent running soundtrack
The original Silent Running soundtrack was composed by Peter Schickele, with vocals on two tracks (Rejoice In The Sun, and Silent Running) by Joan Baez.
I acquired this green vinyl album version in the mid 1980s at a London film fair. The inner sleeve is plain white paper with a cutout so you can read the label. Click on the images to see larger versions.
SIDE ONE:
Rejoice in the Sun (sung by Joan Baez) (2:10)
The Space Fleet (3:28)
Rejoice in the Sun (instrumental) (1:58)
No Turning Back (2:50)
Driving Crazy (2:26)
Drifting (2:08)
SIDE TWO:
Silent Running (sung by Joan Baez) (2:01)
The Dying Forest (2:24)
Tending To Huey (2:55)
Saturn (4:09)
Getting Ready (1:45)
Rejoice in the Sun (reprise sung by Joan Baez) (1:30)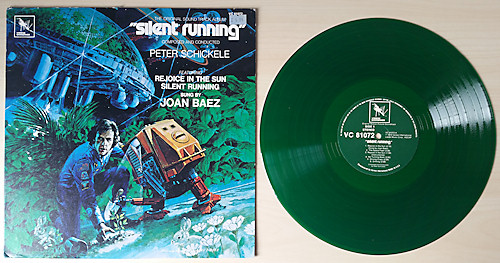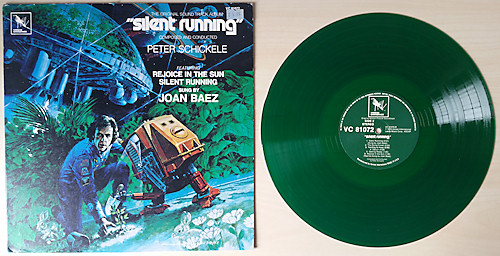 All copyrights and trademarks are implied and acknowledged under fair use.
All original graphics © :: ship of dreams :: 2001 - 2016.
This site uses CSS and should degrade legibly for non-CSS compliant browsers.
Any links to commercial sites are for information only, are not an endorsement & do not earn us commission.
Last update July 16th 2016.