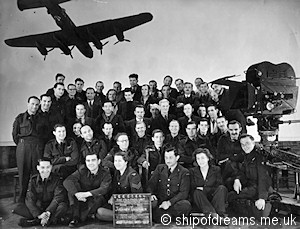 However, the picture shown at left (88 Kb, JPEG) is a crew photograph from "Journey Together" (Flight. Lt. John Boulting, 1945). My grandfather can be seen on the back row, sixth from left. The RAF Film Unit was part of the Crown Film Unit. "Journey Together" was a feature film made in semi-documentary style. It follows three aspiring pilots, played by Richard Attenborough, Jack Watling and David Tomlinson, through training in Britain, America and Canada. Most of the cast were in active service with the RAF at the time (including Sebastian Shaw, who played Anakin Skywalker in the original Star Wars films).
Some useful links:
- Military Aviation Movie List
- Target for Tonight on DVD from amazon.co.uk & amazon.com
- BFI Crown Film Unit page
Ministry of Food - Infestation Division
The set of photos shown below appears to be a model set of shops and offices, shown from a number of different angles. The photos are stamped on the rear with "MINISTRY OF FOOD, INFESTATION DIVISION, 58-62 HIGH HOLBORN, LONDON, W.C.1". They also have handwritten pencil letters D, F, H, J and K. According to the National Archives, in 1942 most infestation functions were transferred to the Infestation Division of the Ministry of Food. During the war the Ministry of Food was itself responsible for the control of infestation within its food buffer depots, while local authorities retained responsibility elsewhere. In September 1947 the Ministry of Agriculture and Fisheries resumed all responsibility for infestation control, taking over the Infestation Division from the Ministry of Food as the Infestation Control Division (although the same site also states 1949 as a handover date). This appears to put these photos within the period 1942 to 1949.
According to "Propaganda and mass persuasion" (Nicholas John Cull, David Holbrook Culbert, David Welch), the Ministry of Food was one of the largest spenders on publicity during the second world war. It issued many leaflets, press advertisements and short films, explaining rationing and providing advice on recipes and making supplies last longer. It is possible that the model below was created for one of the short documentary films. Research continues as to the specifics. Click on the images to see the large versions.